Tahiti Taurua Nui I Las Vegas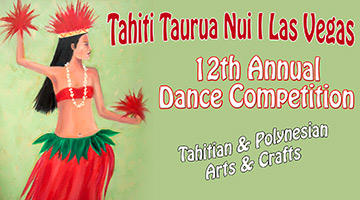 Date:
May 24 - 25, 2014
Location:
Cost:
$20.00
(children ages 5-12 $10.00)
Many people may be familiar with Tahiti. Paul Gauguin, the famous artist, transformed the primitive colors of Tahiti into powerful images around the world. Charles Laughton, who played Captain Bligh in the movie Mutiny on the Bounty (1935), put Tahiti on the map. James A. Michener, a lieutenant in the U.S. Navy and an historian and author, added the legend of Bora Bora with the 1949 musical adaptation of "South Pacific". And, of course, Marlon Brando married the beautiful native actress Tarita, who owns her own island called Tetiaroa. Tahiti has become famous because of rare and beautiful shiny black pearl strands being worn by Hollywood actresses.

Tetua was born on Bastille Day in Rimatara in 1942. He is the third born in a family of fifteen children. Tetua began studying Tahitian music and dance at the age of 6. He was raised on Huahine and worked with his father in their family-owned coconut and vanilla and coffee plantation. He then served in the French Marines and the French Foreign Legion for five years. Tetua became a U.S. Citizen in 1998.

Tetua is the President of Tamaeva Arii, Inc., named after his royal family. Tetua is actively involved as a master instructor in the art of Toere drumming and dancing (Otea, Aparima, Ahuroa, Tipi Sword & Fire-Knife). He has done international shows in Tahiti, Guam, Japan, France, Hawaii and Las Vegas. Tetua's professional experience as a dancer, fire-knife dancer, drummer, lead performer, musician and singer, composer, choreographer, stage, sound, and lighting designer has been extensive in the field of Polynesian entertainment. Tetua is fluent in Tahitian, English, French & Japanese.

Tetua gives an introduction to the culture of French Polynesia via the drums, dances, songs, and chants. The beating of the drums tells stories. The drummers beat the rhythms to which the exotic Tahitian vahine (women) dance. The beats are fierce and primitive. Everyone responds to the call of these drums and thrill to their rhythm, you feel them coming to you, surrounding you with their sound. We would like to take you on a journey to the romantic islands of Tahiti. Welcome to paradise.

Avoid phone & internet service fees by visiting any Boyd Gaming box office to purchase your tickets in person.
Box Office: 702-284-7777
Tickets are available at Sam's Town and any Local Boyd Gaming Box Office
| | |
| --- | --- |
| Open Daily | 10:00am - 10:00pm |