Speedway Children's Charities NASCAR Auction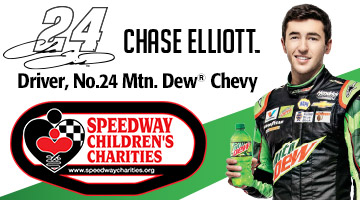 Date:
March 9, 2017 5:00pm
Cost:
Free Admission - All Ages
The Las Vegas Chapter of Speedway Children's Charities hosts the annual NASCAR® Driver and Memorabilia Auction on Thursday, March 9, 2017!

Chase Elliot, driver of the No.24 Mtn. Dew Chevrolet, will be making a special guest appearance that you don't want to miss!

Doors open at 5:00pm and bidding will begin at 6:00pm.

Come bid on a Ride of a Lifetime in the parade lap with a NASCAR superstar and bid on a wide variety of racing memorabilia and one-of-a-kind experiences!
NASCAR Auction emcees include NASCAR's FOX Sports pit reporter Jamie Little and Brittney Cason from "Brittney & Sparks in the Morning" on KOMP 92.3.