TCM® Presents Some Like It Hot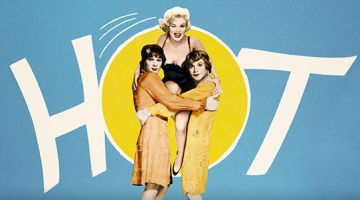 | | | |
| --- | --- | --- |
| Sunday, June 11, 2017 | 2:00pm | |
| Sunday, June 11, 2017 | 7:00pm | |
| Wednesday, June 14, 2017 | 2:00pm | |
| Wednesday, June 14, 2017 | 7:00pm | |
Sunday, June 11 & Wednesday, June 14, 2017

Fathom Events®, Turner Classic Movies® and Metro-Goldwyn Mayer® are thrilled to present Some Like It Hot, including exclusive commentary from a Turner Classic Movies host, who will give insight into this classic film.

Two down on their luck jazz musicians (Tony Curtis and Jack Lemmon) find themselves out of a job and on the run after the police raid the speakeasy they perform in and they inadvertently stumble upon a gang war. With no money and nowhere to hide, a gig with Sweet Sue and her Society Syncopators at a Florida beach resort seems like the perfect getaway. There's just one problem: the Syncopators are an all-female band, and Joe and Jerry aren't women - yet.

Armed with some dodgy wigs and wobbly falsettos, Joe and Jerry manage to join the Syncopators, where they meet Sugar Kane (Marilyn Monroe): a hooch-swilling, ukulele-playing knockout with a soft spot for badboy saxophone players. Barely able to believe their good fortune, things start to go off the rails for the pair when they begin to attract unwanted attention from lecherous millionaires and some familiar faces show up at their hotel for a gathering of the country's most dangerous criminals.

This film will be shown in the same aspect ratio as when it was originally released in cinemas.