TCM® Presents Smokey & the Bandit 40th Anniversary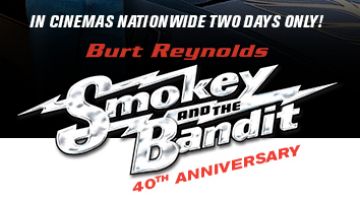 | | | |
| --- | --- | --- |
| Sunday, May 21, 2017 | 2:00pm | |
| Sunday, May 21, 2017 | 7:00pm | |
| Wednesday, May 24, 2017 | 2:00pm | |
| Wednesday, May 24, 2017 | 7:00pm | |
Sunday, May 21 & Wednesday, May 24, 2017

Fathom Events®, Turner Classic Movies® and Universal Pictures® are thrilled to present the 40th Anniversary of Smokey and the Bandit, including exclusive commentary from a Turner Classic Movies host, who will give insight into this classic film.

Get ready to tear up the highway with the Bandit (Burt Reynolds), a fun-loving, fast-talking trucker who takes on his craziest haul yet - delivering 400 cases of beer from Texarkana to Atlanta in just 28 hours. With Sheriff Buford T. Justice (Jackie Gleason) hot on his trail and eager to teach him some respect for the law, the Bandit joins forces with good ol' boy, Cledus (Jerry Reed) and runaway bride Carrie (Sally Field). Gear up for huge laughs, pedal-to-the-metal action, and some of the wildest car crashes ever filmed!

This film will be shown in the same aspect ratio as when it was originally released in cinemas.