TCM® Presents North by Northwest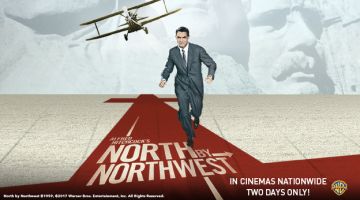 | | | |
| --- | --- | --- |
| Sunday, April 2, 2017 | 2:00pm | |
| Sunday, April 2, 2017 | 7:00pm | |
| Wednesday, April 5, 2017 | 2:00pm | |
| Wednesday, April 5, 2017 | 7:00pm | |
Sunday, April 2 and Wednesday, April 5, 2017

Fathom Events®, Turner Classic Movies® and Warner Bros. Entertainment® are thrilled to present North By Northwest, including exclusive commentary from a Turner Classic Movies host, who will give insight into this classic film.

Cary Grant stars as an innocent man mistaken for a spy in one of director Alfred Hitchcock's greatest thrillers. While leaving New York's Plaza Hotel, advertising executive Roger Thornhill (Grant) has the misfortune of standing just as the name "George Kaplan" is paged, starting a lethal case of mistaken identity and a nonstop game of cat and mouse as he is pursued across North America by espionage agents trying to kill him--and by police who suspect him of murder.

This film will be shown in the same aspect ratio as when it was originally released in cinemas.